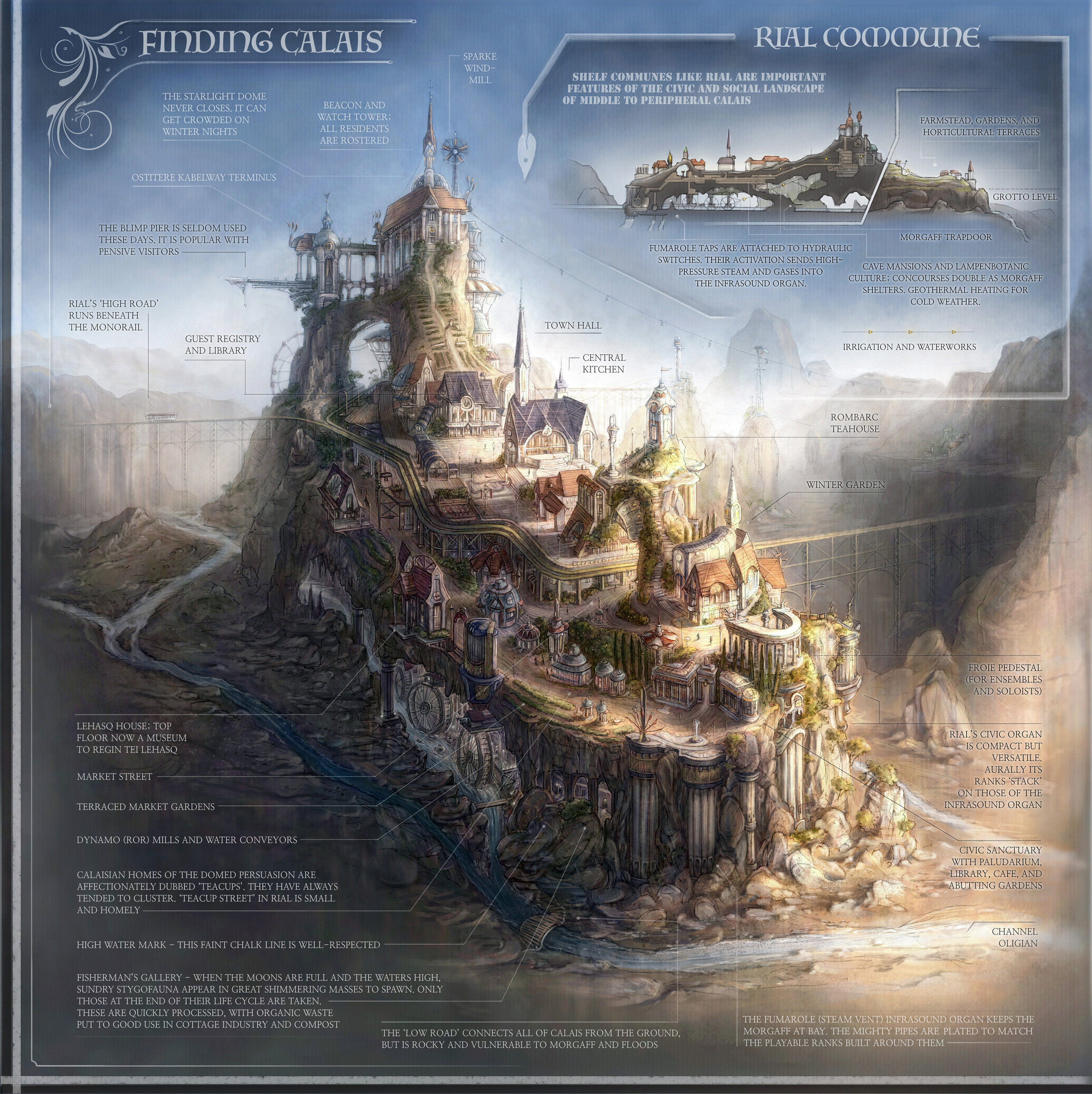 Home for the Evening
The double ridge of the Crucian peaks look to Malendar from across some eighty leagues of shrouded wastes. These are the Guild havens, and for all of the next century their rigids will be the only conveyances permitted (de jure, at any rate) to leave Iaran longitudes for the far side of the world.
Taldesie
Middle Calais, eight stations from Rial. This close to the periphery the fissures trellising the land have broadened discernibly. It is dryer as well, the rock faces red and harsh, the green sparser. Even here the ranks of infrasound organ pipe continue their outward march. Over the centuries the taps beneath some of them have lapsed into dormancy; when this happens the city decommissions them in quiet ceremonies and (excepting the occasional survey) leaves them to wear gently and grandly into the dusts.
Cascades
Middle Calais. If you've followed the beacons (and the waters) this far, you'll mark that it gets rather lusher here.
The 'Woodland' Organ
CALAIS: The 'Woodland' Oegel — L. Rowe Fleury's last masterpiece (or abomination, critics howl). Never in Cayden memory has a single architect been the subject of so much divisive controversy. Himself Fleury would shrug and say, I like plants, and draw back into his sketchbook. At any rate the 'Woodland' oegel has preserved well. It has never gone silent. Four centuries later it continues to play softly through the night, stopping only when dawn mists begin to curl about the more 'becoming', symmetrical, pillared regularity of civic edifices across the river Eiste. It has limited defensive utility, possessing no stops mighty enough to deter the Morgaff on its more spirited nights. Those in the vicinity unable to sleep at night find it nevertheless a reassuring presence. The town that has spring up within, above, and around it is heartily involved in its upkeep and municipal musicmaking. There are generally recitals both lunch- and dinner-time, after which the scholars hook it to the automaton for 'lullaby' watch.
Balloon Academy Hall
Balloon Academy Hall, peripheral Calais. The existing facade (now a century old) was a product of the reactionarily traditionalist Ludocci school, and can be considered demonstrative of its persuasions.
Tepin Os
CALAIS: The waters that course around Os Tepin (Celin) are bound straight for the maw of one of the largest and steepest cave openings in the region. It is a dark pastime of the two hundred forty residents here to lounge and picnic on the Boardwalk while fine spray from that abyssal spectacle swirls past them. In dryer seasons the waters slow to a trickle, and the vicinity becomes deathly quiet.

Edge of Iara
The last beacon of Iara keeps staid vigil from its pedestal atop the husk of a Rothalgan air temple. Above it survey ships tarry, borne lofty by winds from Carentan. Where they go, few can follow.
JT: This image was a breakthrough for Finding Calais, and was well-received enough for viewers to comment on it with their own takes on its context (for that I am so, so grateful — as I've stressed ad infinitum, the ability to connect with others who feel for the same ideas I do (no doubt in their own special, special ways) is one of the most important driving factors behind my work. )
~ A little on my own understanding of the content: This high place is the furthest South a fellow can go over land on the Iaran continent before temperatures soar enough to fry eggs on rocks well into dusk. Be fool enough to proceed onward, and you'll have to descend into a sweeping immensity of fissure-trellised desert. Five thousand kilometres later you'll cross the equator, where the daily average is sixty-two degrees celsius. No vertebrate life has been documented in this band of equatorial wastes, nor is there any surface water to rely on; sans the 'en stygia' (subterranean) approach that riddles Malendar pulp fiction, the only reliable way to reach the other hemisphere is by air.
It is no surprise, then, that this site appeals considerably to the human imagination. The air temple in the image was the spiritual home of Rothalgar, a realm which at its peak sent marches north which would cover two-thirds of the modern Federation. The temple's husk has since 1286 housed the best-known beacon (Floor 'Zero') in all of Iara. Excursion ships bound on the dangerous passage South signal their departure to the beacon, and it receives them afterward by shining their way home.
The roofs of Denquien (Cortin) are instantly recognisable for their blue slate. A peripheral scion of Calais, Denquien possesses the capacity for agrarian self-sufficiency at a pinch. It also taps its neighbourhood's maze of rapids, rivulets, and falls for much of its power, rosters its own sentries, and runs two of its own oegels — thus needing very little from the Citadel. Accessing Denquien's gondola station — its only link to the civic grid, save for some very taxing footpaths — does however mean a good half-hour of walking. Its ninety-six residents have not agitated for firmer connections to Calais proper, and seem content to light their own parallel but quaintly distinct path through the darkness of Carentan.
Shared Residence
A typical shared residence in Middle Calais. This one is built around a (largely) ornamental waterwheel. The stream tinkles inside the dome all summer, and the space passes off as a winter garden when temperatures drop. Follow me for more of Finding Calais (:
Coelir Haven
Coelir Haven's defensive pipe organ is actually Fleury's first. Already we see hints of the organic excesses that would, to critics at least, mark his hand. They did have a sensible end — 'camouflage', quoth he — but the ensuing movement would spread to the heart of Calais and yield such monumental controversies as Talcott's Botanical Organ.
***
Left. Calais: Renault's Lantern heralds the approach to middle Cayden — a reassuring sight for the harried sky captain. Some days the northerlies carry away the thunder of the falls; a hush descends upon the halls then, and reading and quiet conversation become possible.
***
Right. Croiden Falls, Calais (I think!) - 'water gate' to the southern periphery. The gazebo is a popular bandstand.
No.72
Talimore and its environs are rent with fissures and masked with pouring steam vents. Several times a day currents borne straight and true from the periphery part the veil almost entirely, allowing some truly monumental architecture to glisten in the sun.
Arx Tallia
CALAIS: Tallia's central promenade ends in a terrace with a view over the canton's botanic gardens. Tracts of open country are uncommon in Calais, and contribute to the area's popularity.
Twilight at the edge of Tallia, Calais. Engineers have worked steadily over the generations to increase the flow of water to the falls.
Clae Feldoune
Clae Feldoune, 'Dragon Chaser', patrols the deepest, darkest parts of old Calais. The crew are assisted by searchlamps lancing from above. The cableways have not run in these vacated realms for decades.

Perfect as Calais may sometimes seem, here the authorities think it best not to linger.
Beacon
'I wonder what it'll be like to curate a kind of public vivarium. I see this particular one standing just apart from the street of a hamlet-sized scion of a large conurbation. It'll be something the residents take pride in — not unlike a community garden. Kids might hang around it after school and help with the chores. Said hamlet-place will be perched on a shelf just below the opening of a gorge or fissure, and the light in the vivarium's tower will keep careening blimps at bay.'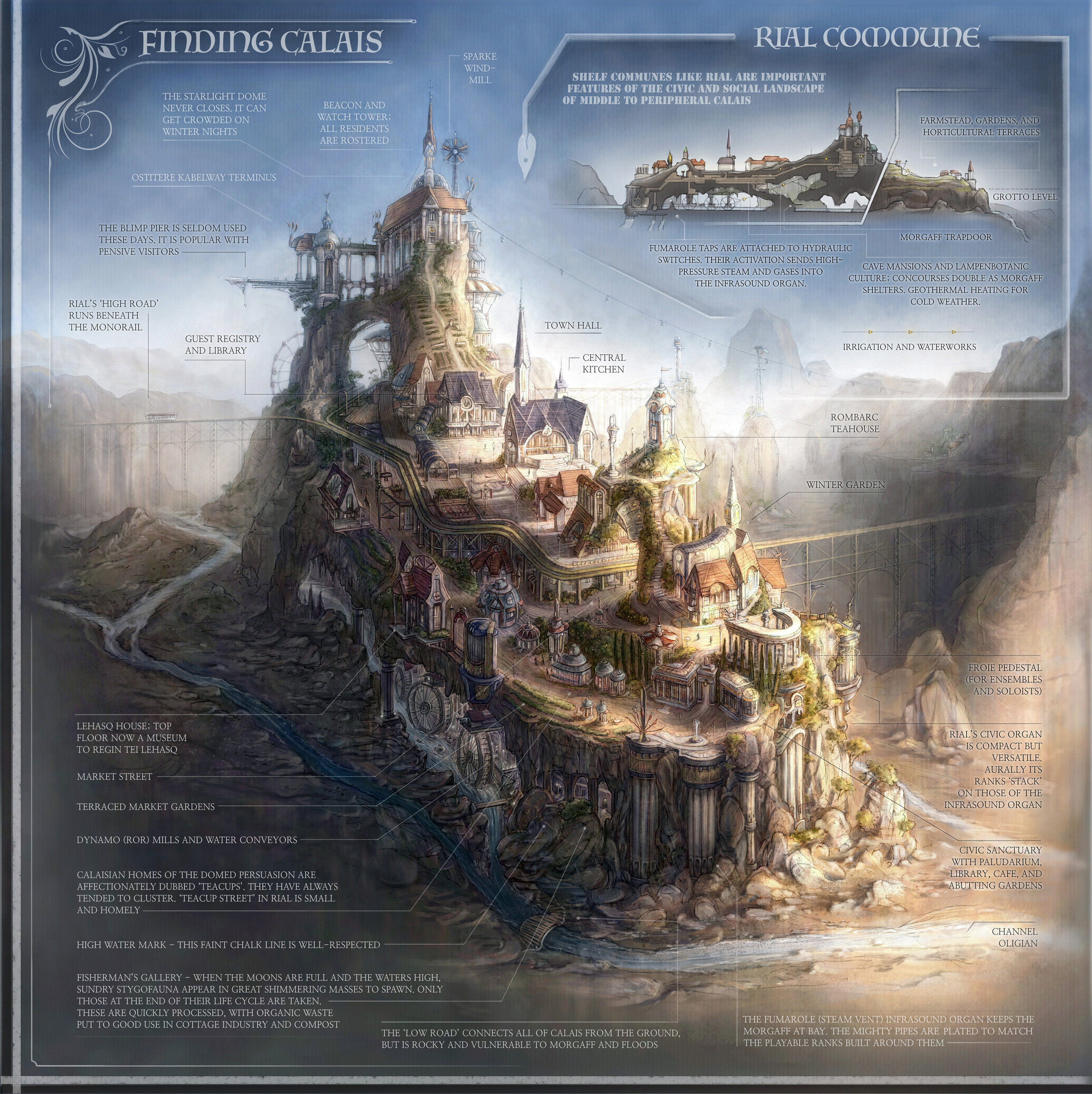 Rial Commune
An overview of Rial, peripheral Calais.
Spotter Boys' Annual - Freight Dirigibles, #14
The Spotter Boys are a shipwatching society based in Pier Country, Malendar. These are some of the minor giants that grace the aether of that metropolis with clouds for a waterfront.
Carnival Pier and Environs
Carnival Pier is in the heart of Pier Country, Malendar. Petty thieves have a field day whenever the clouds rise up to shroud it (the promenader with acumen ducks indoors then, book and coffee in hand).
~~~
SketchUp was used to prepare this presentation.
West Torak, 17-2.T.E.
MALENDAR: A drawing of the view from the T-line elevator concourse of West Torak station — a quieter alternative to North and Lower Torak, both of which serve far beyond capacity during peak hours.
Top: Bird's approach to Malendar
***
Bottom: Twilight at the edge of pier country

Malendar, capital of the Iaran Federation, is a deco-esque metropolis perched atop a cluster of mesas. This is a world of some very strange topography. The planetary surface puts one in mind of a cracked riverbed — such habitable 'land' as exists is rent by fissures, valleys, and sinkholes plunging into a slowly turning geological morass. Less than twenty percent of it has developed into exposed bodies of water, and rivers run as often as not straight over cliff faces or slip furtively below ground into vast, abyssal realms of squirming lightlessness
Malendar's urban fissures can be a manifest impossibility for large airships to traverse. Capricious weather, however, often compromises more sensible routes to the city's ports and terminals. The spectacle of the great envelope latched to puffing locomotive is therefore a staple of any blustery or inordinately cloudy day.